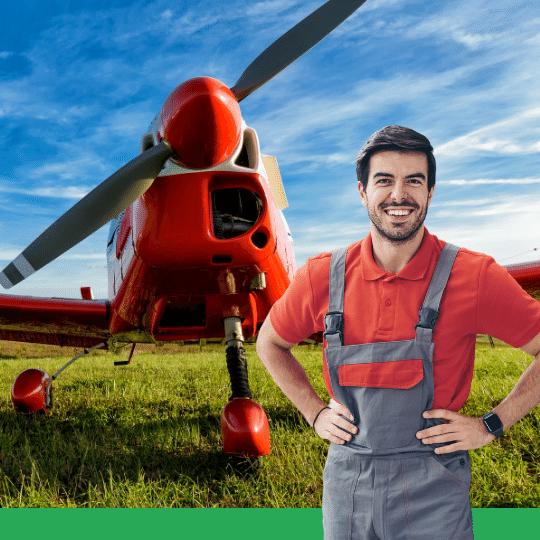 "The role of a Pilot is akin to the heart of an aircraft, while the AME embodies its very soul."
The AME work description is one with a strong sense of respect and accountability. A licensed individual who certifies an aircraft or a component of it for its airworthiness before being released into service is known as an aircraft maintenance engineer (AME). In compliance with national and international aviation regulations, an aircraft maintenance engineer performs, certifies, and major repairs on aircraft, power plants, components, and accessories before releasing them for use. These AMEs are appointed by all airlines, maintenance and repair businesses, flying clubs, etc. for the certification of their aircraft and its parts by legal requirements. The aviation industry's aircraft maintenance engineering field is arguably the most promising in terms of job prospects.
The responsibility of an AME is to confirm that the aircraft is in a flyable condition before takeoff. Based on the guidelines established by the Indian government. Without authorization from competent Maintenance Engineers, no aircraft can take off. One must complete an AME course from a DGCA-approved Institute to become an AME. These accredited institutions offer the DGCA-approved curriculum and hold internal exams to determine course completion. A finite number of seats in categories B1 (Mechanical) and B2 (Avionics) are assigned to each AME institute. No AME institute may accept more students than the DGCA has authorized. After receiving their license, aspiring aircraft maintenance engineers can begin working for commercial or public airlines.
Anyone interested in joining the demanding aviation sector and exploring their aspirations can enrol in the AME program. Students that aspire to become effective AMEs and ultimately succeed in their endeavours are welcome to enrol in AME training institutions. These DGCA-certified AME Institutes are also offering the essential information, experience, and skill of aircraft maintenance techniques to pass the AME license exam, much like other Institutes/colleges under other regulatory organizations, such as AICTE, NCTE, etc.
The students won't receive a license or degree/diploma simply by finishing the AME course. However, only those AME students who passed the DGCA-conducted AME license exams and successfully finished the AME course would be qualified for the proper AME license. Join the Institute of Aeronautics & Engineering, Bhopal if you wish to advance your career as an aircraft maintenance engineer and work for the aviation industry as a trustworthy certification specialist. There are only a limited number of seats available for you to realize your aspirations because of the DGCA, Govt. of India restriction that the institute may only admit 30 students per batch every academic year
Job Work & Responsibilities of an AME
When it comes to aircraft, safety is a key consideration. An aircraft is made up of a huge number of pieces, including engines, electrical and electronic systems, and hundreds of the newest technology. Parts tend to break down with time and with use. As a result, frequent aircraft maintenance and inspection have become crucial. An aircraft maintenance engineer has received specialized training to check an aircraft, identify flaws, communicate those concerns to others, and then resolve those issues. The responsibility of a huge number of passengers is on the aircraft. Given that it deals with the safety and protection of aircraft and their passengers, AME is a profession of great dignity and trust. An authorized aircraft maintenance engineer is in charge of troubleshooting any aircraft issues before take-off.
Lifestyle, Job Opportunities & Salary of an AME
Since they are the backbone of the aviation business and are required for every flight, AME needs qualified people with the necessary skills and expertise. AME must be passionate about his profession. They undoubtedly earn very good pay. It is an excellent position. After graduating from AME, one can lead a lavish lifestyle.
◙ National Carrier: Airlines, a national carrier, offers customers a means of transportation via air. An authorized Aircraft Maintenance Engineer must assess and resolve any issues with the aircraft before take-off. An aircraft can take to the air after receiving a Flight Releasing Certificate (FRC).
◙ Maintenance, Repair, and Overhauls (MRO) industries: firms that specialize in guaranteeing the predetermined conditions and their parts, including jet engines, landing gears, etc. are met are known as MRO firms. A certified aircraft maintenance engineer is necessary to maintain any flying aircraft.
◙ Aircraft Manufacturing Companies: Companies that manufacture aeroplanes, like Boeing, Airbus, Bombardier, etc., are known as aircraft manufacturing companies. An aircraft maintenance engineer is required to operate jet and piston engines, electrical systems, etc.
◙ Aircraft Part Manufacturing Companies: Several pieces make up an aircraft. Aircraft Part Manufacturing Companies have been established to produce certain parts. They can analyze such components and create a better one with the aid of an aircraft maintenance engineer.
◙ Aircraft Operation Organizations: These organizations deal with the laws governing the security and safety of civil aviation. When considering aircraft safety, the first thing that immediately comes to mind is the aircraft maintenance engineer.
◙ Flying Clubs: A flying club is a group that gives its members access to planes at reasonable prices. The maintenance of that aircraft is required, and it is carried out by licensed aircraft maintenance engineers.
◙ Civil Defence Forces: To defend the nation, defence forces deploy a variety of aircraft for diverse tasks. Defence aircraft are also maintained by a licensed aircraft maintenance engineer.
◙ And any place where an aircraft is used for civil: Additionally, if an aeroplane is utilized for civil purposes, it must be maintained by an authorized aircraft maintenance engineer.
Career Scope of Aircraft Maintenance Engineer
The following information affects the range of AME careers:
The UDAN program is advancing the career of the AME. The primary goal of the UDAN Scheme is to "let common people fly" by lowering the cost of travel. One may observe the sharp rise of domestic travellers, which has led to a growth in AME job opportunities. The need for new aircraft is caused by the approximately 25% growth rate of air travellers.
Already, there is a global shortage of AME professionals. As the license is valid in India and outside, AME from any Institute can work in India and abroad in the commercial or public sector, creating a need for 7,54,000 licensed AME globally in the future years. India became the ideal market to invest in due to its rapid growth in the aviation industry. The entry of companies like Qatar Airways, WOW Airlines, etc. into the Indian aviation business has increased the need for AMEs. In different states of India, Boeing and Airbus plan to establish their MRO Organisations, creating thousands of employment for AME.
India is competing to overtake China as the third-largest country in the aviation industry, which is a fantastic accomplishment for the nation. India is home to many dedicated and hardworking people who may be proud of their country. The expansion of aviation has created incredible job prospects for AMEs. The first civil aircraft were produced in India, which increased the demand for aviation engineers. cheaper air travel than an auto rickshaw journey Mr Jayant Sinha, the former minister of aviation, had a remarkable career as an aircraft maintenance engineer. More individuals will be able to travel by air as the cost of flying drops.
What are the qualifications to become an AME?
THE QUALIFICATIONS TO BECOME AN AME ARE AS FOLLOWS:
AME License- To become an Aircraft Maintenance Engineer, a candidate must have an AME License after completion of the Aircraft Maintenance Engineering course. It is the necessary qualification to apply for a Job in the aviation sector as AME. DGCA Govt of India issues the license. The grant of AME is precious as AME can work in India and abroad in the government and private sector.
THERE ARE SOME EXTRA SKILLS WHICH ARE HELPFUL TO BECOME AN AME:
Ability to work as part of a team - The AME operates the aircraft in a, so a candidate is comfortable working in tandem.

Accountability - It is the accountability of AME for the well-being and protection of aircraft.

Ability to work odd hours - AME is required in favourable and unfavourable times and places. An AME is capable of working in every circumstance.

Communication skills - AME should have excellent communication skills. He/She should have good command of English.

Confidence - AME can present himself/herself accurately and confidently. The AME should have a positive attitude towards his work.
How to get AME License?
THERE IS A PROCESS TO GET AME LICENSE ELIGIBILITY WHICH IS AS FOLLOWS
Completion of Course (COC) - After completion of three academic years in an Aircraft maintenance engineering College. C of R is awarded to the candidate. All AME institutes in India are recognized by DGCA. DGCA is an organization in India reporting to the Ministry of Civil Aviation.
Modules - DGCA, Government of India, conducts the modules. According to DGCA, there are a total of 17 modules, however, applicants must pass each module according to their chosen stream. Candidate must complete all modules.
Experience – Aircraft Maintenance Engineering is a four-year course. The first three years will be spent in an academic program, while the last year will be spent receiving training in a maintenance environment. When applying for an AME license, the information gained during training will be taken into account as experience.
PROCESS TO GET AME LICENSE
An applicant must complete a three-year academic curriculum in DGCA-approved AME institutes to receive a COC (Completion of Course) Certificate. An applicant will acquire theoretical and practical aviation expertise during this three-year study. A candidate will receive a C of R Certificate if they have completed their three years of academic study.
Candidates must pass certain courses in this three-year academic program. The DGCA Govt of India will administer the modules test. A stipend will be provided for the candidate's three years of industrial training in a real-world setting. The qualified aircraft maintenance engineer will after that receive an AME Licence by DGCA requirements
HOW TO GET ADMISSION IN AME COURSE TO GET COC?
THE AIRCRAFT MAINTENANCE ENGINEERING COURSE ADMISSION PROCEDURE:
Any interested student looking to enrol in the Aircraft Maintenance Engineering program can do so by filling out the online form at www.iaebhopal.edu.in, or they can get in touch with us to register offline.
A candidate must have passed the 10+2 exam with PCM (Physics, Chemistry, and Mathematics) or have completed a three-year recognized diploma in any of the streams to be eligible for admission to the Aircraft Maintenance Engineering program in line with CAR-66 & CAR-147 authorized Institute.
This Civil Aviation Requirement is being made according to Rules 61 and 133B of the 1937 Aircraft Rule, which was drawn from the 1934 Aircraft Act (XXII to 1934) approved by the Indian Parliament and the Government of India. The DGCA is the country's regulating authority for everything related to civil aviation. Anybody who has completed the 10+2 examination with the subjects of Physics, Chemistry, and Mathematics, or who has earned a diploma that is comparable to the 10+2 level, and who is in good health as defined by the DGCA, may enrol. According to the guidelines set forth by the DGCA, Government of India, there is no such requirement for an entrance exam.
Since many deserving students are very poor monetarily yet have tremendous potential in the aviation sector. Sha-Shib Scholarship and Aptitude Test (SSAT), a scholarship test, is being held by Indian Aerospace & Engineering and ShaShib Group to assist these deserving students. A position at Indian Aerospace & Engineering, Mumbai, can be obtained based on performance in this test. Aspirants must register themselves either online through ssatindia.com to be eligible for a place in this prominent Indian Aerospace & Engineering program.
The rate of increase in aviation traffic in India creates a growing number of employment prospects for AMEs. The time is right to work as an aircraft maintenance engineer. You have access to every luxury one might desire with this profession. According to recent news, AME careers will reach new heights.